Atlascine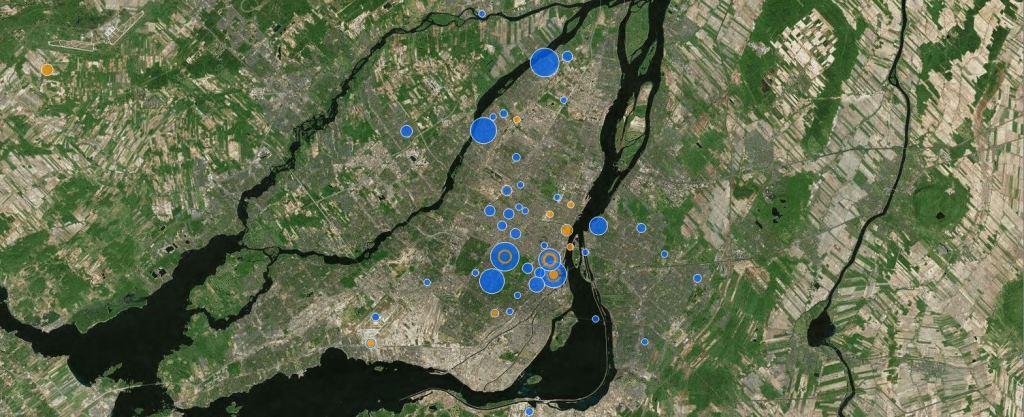 Atlascine is an online mapping application dedicated to mapping stories for research purposes.
This tool was originally developed by the Geomedia Lab, based on the open-source platform Nunaliit, developed by the GCRC, to map cinematographic stories in order to better understand where the actions of Canadian films unfold and how these locations affect the spatial imaginary of audiences. Since then, Atlascine has attracted attention nationally and internationally (e.g. in 2015, it received the first prize in the Geospatial application competition at an International Geography Festival in France) and has been used to map a range of stories, including stories of refugees.
Atlascine is conceived to enable the simultaneous representation of three dimensions that are key for mapping stories: (1) the places where a story unfolds (i.e. the geography); (2) the links between these places (e.g. the movement from one place to another, i.e. its geometry); and (3) the time spent in each of these places in the story (i.e. its temporality). These dimensions are conveyed through different features.
Today Atlascine is one of the major tool integrated in the living archives platform in order to mapping life stories. A new version of Atlascine is currently in development using the life stories of the Living archives project. This new version will be ready this fall 2019 (beta version). Stay tuned for the launch!!
How to use Atlascine (version 3) : https://atlascineproject.wordpress.com/tutorial-how-to-map-your-own-narratives/